A New Type of Training for Careers in the New Century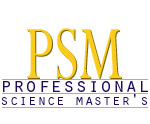 In response to the national priority for training graduate students at the master's level for careers outside of academia, the University of Connecticut is pleased to launch three new Professional Master's Degrees in Science and Mathematics. Our innovative programs are hybrids between the traditional coursework degree (emphasizing formal theoretical coursework) and the traditional thesis degree (emphasizing original research project), incorporating the best of both. This new Professional Science Masters program was established with support from the Alfred P. Sloan Foundation.
The new degrees provide substantial cross-training for successful performance in business, governmental or corporate environments. Each program incorporates elements of laboratory or problem-solving experiences, computer literacy, and communication skills. We are currently recruiting qualified and highly motivated students.
Contact Us
Professional Science Master's Program

Department of Molecular & Cell Biology
91 North Eagleville Road, Unit 3125
Storrs, CT 06269-3125
Email: spencer.nyholm@uconn.edu